2014 Convention & Signing Tour! UPDATED 6/11/2014
Jan 11
Borderlands Comics & Games
1434 Laurens Rd
Greenville, SC 29607
borderlands.us
Jan 18
Bill's Books and More
2215 6th St SW,
Canton, OH 44706
(330) 453-3996
Jan 25
Charlotte Mini-Con 2014
Charlotte, NC
March 1
Sumter Fan-Con 2014
Sumter, SC
March 8
Captains Comics Expo 2014
Charleston, SC
March 15
Indiana Comic Con 2014
Indianapolis, IN
March 21- March 23
MegaCon 2014
Orlando, FL
April 25- April 27
C2E2 2014
Chicago, IL
May 3
FCBD 2014
Heroes Aren't Hard to Find
Charlotte, NC
May 10
Galactic Comics
Buford Highway
Georgia
May 17- May 18
SC Con 2014
Greenville, SC
June 14- June 15
NYCC Special Edition
New York, NY
June 20- June 22
HeroesCon 2014
Charlotte, NC
July 23 – July 27
SDCC 2014
San Diego, CA
August 29- September 1
DragonCon 2014
Atlanta, GA
September 5-7
Baltimore Comic Con 2014
Baltimore, MA
October 9- 12
NYCC 2014
New York, NY
October 25th
Halloween ComicFest
Punk Monkey Comics
Columbia, SC
Want to schedule Jeremy Dale for an upcoming convention, signing, or appearance? Contact us at jeremydale@yahoo.com and we'll make it happen!
- jeremy
The Silver Sponsors for Free Comic Book Day (FCBD) feature a whole new selection of forty-eight books for the comic book industry's top annual event, Free Comic Book Day, scheduled for Saturday, May 3rd, 2014 at participating comic book shops.  FCBD 2014 marks the largest ever FCBD event with 60 books to choose from.  The comics include incredible titles from forty publishers featuring fan-favorite,and new comic book characters that encourage readers to explore the fun and excitement that comics have to offer.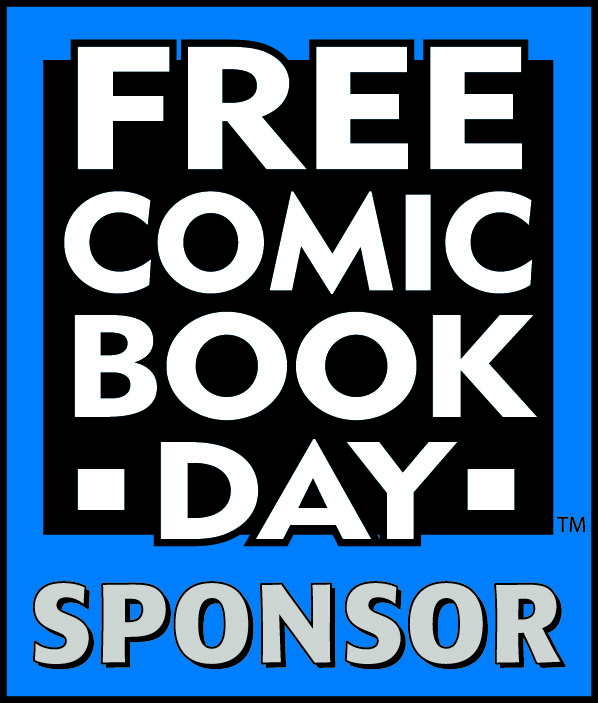 Chosen by retailers on the FCBD Committee, there's a free comic book for everyone's taste from the Silver Sponsors: from Sonic the Hedgehog and Teen Titans Go!, to Scratch 9, Rocket Raccoon, The Smurfs, Grimm Fairy Tales and more!
"There's an incredible depth to this year's Silver Sponsor offerings," said FCBD spokesperson, Dan Manser. "The publishers have created a real opportunity for comic book fans—and those new to comic books—to come in and sample a wide variety of genres and stories. We are sure that fans will be pleased with the line-up and look forward to seeing them during Free Comic Book Day at participating comic book shops across the nation and worldwide."
A complete listing of all sixty FCBD titles, including the twelve Gold and forty-eight Silver comic books, can be found in the January issue of Diamond Comic Distributors' PREVIEWS catalog, on sale at all comic book shops December 31, 2013 or by visiting the comics section of the Free Comic Book Day website.
FCBD 2014 SILVER BOOKS

SHERWOOD, TX & BOONDOCK SAINTS DOUBLE FEATURE FCBD 2014 EDITION


 SKYWARD & 
MIDNIGHT TIGER FCBD 2014 EDITION



ZOMBIE TRAMP & 
EHMM THEORY FCBD EDITION



FUBAR:
ACE OF SPADES FCBD 2014 EDITION



STEAM WARS #1
FCBD SPECIAL EDITION


THE INTRINSIC VOL. 2
FCBD 2014 EDITION



SONIC THE HEDGEHOG/
MEGA MAN FLIPBOOK
FCBD EDITION



WORLDS OF ASPEN
FCBD 2014 EDITION

 


 IPSO FACTO #1
FCBD 2014 EDITION


HATTER M: FAR FROM WONDER #1 FCBD EDITION




BLEEDING COOL MAGAZINE
FCBD 2014 EDITION




UBER: THE FIRST CYCLE
FCBD 2014 EDITION

MOUSE GUARD, RUST & OTHER STORIES: A FCBD HARDCOVER ANTHOLOGY

THE ADVENTURES OF JELLABYFCBD 2014 EDITION

DEFEND COMICS FCBD 2014 EDITION


CBLDF PRESENTS: RAISING AREADER! FCBD 2014 EDITION


EPIC #0 FCBD 2014 EDITION


SCAM:CROSSWORDS #0 FCBD 2014 EDITION


PROJECT: BLACK SKY
FCBD 2014 EDITION


TEEN TITANS GO! #1
FCBD 2014 EDITION



SHIGERU MIZUKI'S SHOWA:
A HISTORY OF JAPAN
FCBD 2014 EDITION


MAGIC WIND
FCBD 2014 EDITION


ENTROPY
FCBD 2014 EDITION



HIP HOP FAMILY TREE
TWO-IN-ONE
FCBD 2014 EDITION


OVERSTREET'S COMIC BOOK
MARKETPLACE FCBD 2014 EDITION


GRAPHIX SPOTLIGHT:
THE DUMBEST IDEA EVER!
FCBD 2014 EDITION



BUCK ROGERS IN THE 25TH
CENTURY FCBD 2014 EDITION


SCRATCH 9
FCBD 2014 EDITION


V-WARS #0
FCBD EDITION


ROCKET RACCOON
FCBD 2014 EDITION


THE TICK
FCBD 2014 EDITION


COURTNEY CRUMRIN #1
FCBD 2014 EDITION


THE SMURFS
FCBD 2014 EDITION


PREVIEWSWORLD
FCBD 2014 SPECTACULAR



2000 AD SPECIAL
FCBD 2014 EDITION



ATOMIC ROBO AND FRIENDS
FCBD 2014 EDITION


DULE IDENTITY/ PANDORA'S BLOG FCBD 2014 EDITION

 

 


MAGIKA/ THE FIRST DAUGHTER FCBD 2014 EDITION

DARCHON/SHADOW CHILDREN FCBD 2014 EDITION


 

WAYWARD SONS/ TESLA FCBD 2014 EDITION


 

 

FINDING GOSSAMYR: WAY OFTHE BLADESLINGER FCBD 2014 EDITION

 

TOP SHELF KIDS' CLUB FCBD 2014 EDITION

 

 

STREET FIGHTER #0 FCBD 2014 EDITION


LES MISERABLES:
THE FALL OF FANTINE FCBD 2014 EDITION


VALIANT UNIVERSE HANDBOOK FCBD 2014 EDITION


VALIANT: ARMOR HUNTERS
FCBD 2014 SPECIAL


ALL YOU NEED IS KILL/
TERRA FORMARS FCBD 2014 EDITION



GRIMM FAIRY TALES #0
FCBD 2014 EDITION

From http://www.goodreads.com/author_blog_posts/5212015-skyward-cover-process
Jeremy Dale asked me to do a variant cover for his fantasy comic 

Skyward

. It's an all-ages adventure story with a boy and his dog as the main protagonists. In this blogpost I'll discuss the process and steps of making the cover. The final color art can be seen to the left, but read on for more info.

My first step was to figure out what characters to feature. Jeremy and Kelly gave me to restrictions of the cover's subject, so I was open to do whatever I felt would be most interesting to me. Since I know I'm better at animal characters (and better known for them as well) rather than humans, I opted for the large bird character and three of the Rabites

I sketched each of the Rabites separately as well as the bird in my sketchbook. Kelly had told me the Rabites would not be very likely to ever ride the bird, so I though it would be fun for the bird to remain planted while the three Rabites tried encouraging him to go. I scanned the sketches and assembled them in Photoshop. This allowed me to adjust scale, rotate figures (or just heads or arms) and get the positioning just right with the character's relation to one another as well as the borders of the cover. I also dropped in the logo to make sure I wasn't drawing anything important up there that may be covered up. The figures were each tinted to help me with the next step.

I printed out the digital layout above at full-size on regular printer paper (I had to print it in 2 parts and tape it together). I then used a low-tack masking tape to secure the printout to the back of a sheet of Strathmore 300 series bristol (my final working surface). On my lightbox I was able to see through the bristol and use the printout as a guide to ink on the bristol surface. Having each character tinted makes figuring out where one character ends and the next one starts all the easier. I inked this with a Copic Multiliner (nibs 0.7 & 0.35). I penciled the tree shapes and the ground's edge on the back of the cover (still on the lightbox) and then inked those in after the figures were completed.

After the inks were done, I scanned those back into Photoshop and started the coloring process. The longest and most tedious part of coloring anything digitally is establishing flats. Because you are painting in flat colors, this step is called flatting. The color choices aren't as important as staying within the lines. In fact, you can use any colors at this stage, just so long as you are setting up that the Rabite fur is one color, and their tunics are another, and their arm & leg wraps yet another. I tend to not use my final colors while flatting because it helps me check if something isn't supposed to be as well as gets me less focused on selecting the right overall palette off the top rather than the work at hand of getting all the areas/color types isolated

I render the flat colors (after I adjust them closer to what is my final idea of the color scheme) using the dodge & burn tools. These tools lighten and darken the base colors. In addition to using a brush with a texture so the work doesn't appear so digital, there are other controls for these tools like the range & exposure. Exposure controls how much lightening and darkening is one at once, but the range does a bit more than it would let on in title alone. The range can be set to 'highlights' 'midtones' or 'shadows' and while that controls which range of color tones will be most affected by the tool, it also sets how the color lightens or darkens ex:.if it saturates or desaturates on it's way to becoming lighter or darker.

Here again is the final cover art. The Dale's tell me it will be appearing on a future issue, and to keep up with them via Jeremy's site or his Twitter.